Regular price
$99.99 USD
Sale price
$49.99 USD
Unit price
per
Sale
Sold out
Transform your wellness journey with our innovative cup massage therapy. Equipped with the latest advancements in red light therapy, deep tissue heating and dynamic cupping, our device will soothe your aches, speed up your recovery and rejuvenate your body from head to toe, all in the comfort of your own home.
Shipping & Returns

Please allow 3-4 days for your order to be processed.

For United States: 7-12 day shipping

30 day money back guarantee
Who This Is Perfect for

The cupping machine is intended for people who are seeking natural, non-invasive solutions for pain and tension relief. This device can be especially beneficial for anyone who experiences chronic muscle soreness or stiffness. The controlled suction and targeted pressure provided by the machine can help to loosen tight muscles, increase blood flow, and promote healing.
How To Charge

This device comes with a USB - C charging port. One charge can last up to 8 hours.
Our Guarantee

We believe in our products so much that we offer a 30 day money-back guarantee. This is because we want every customer to have a positive experience with us.
View full details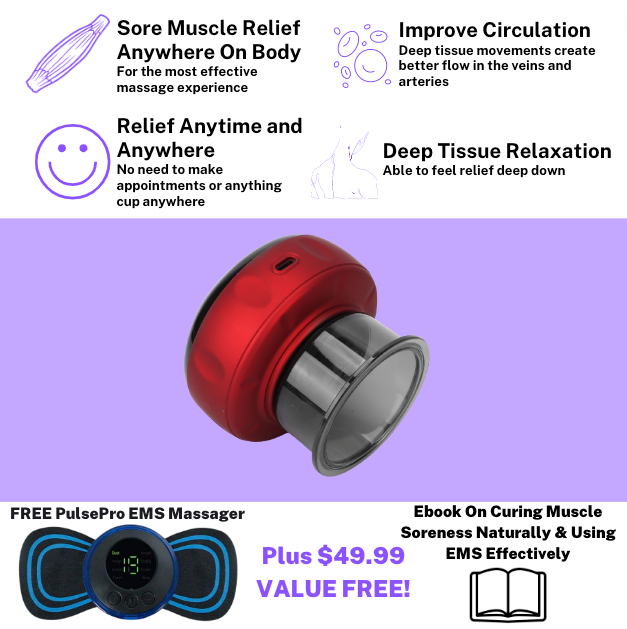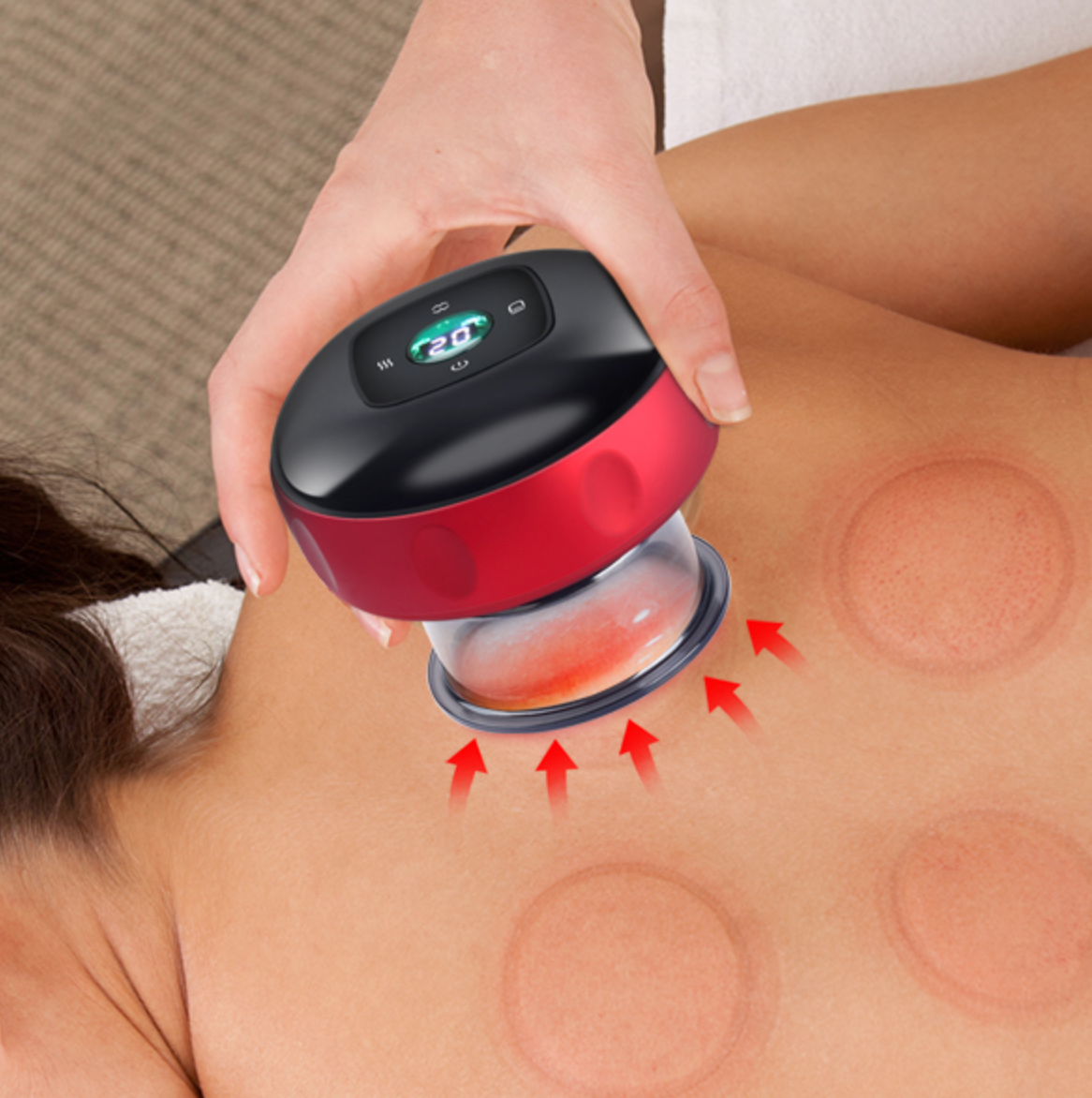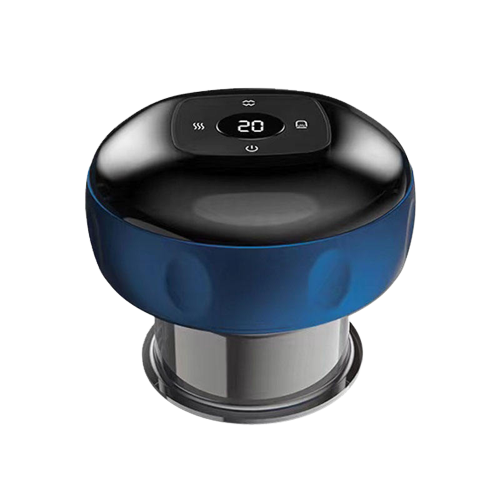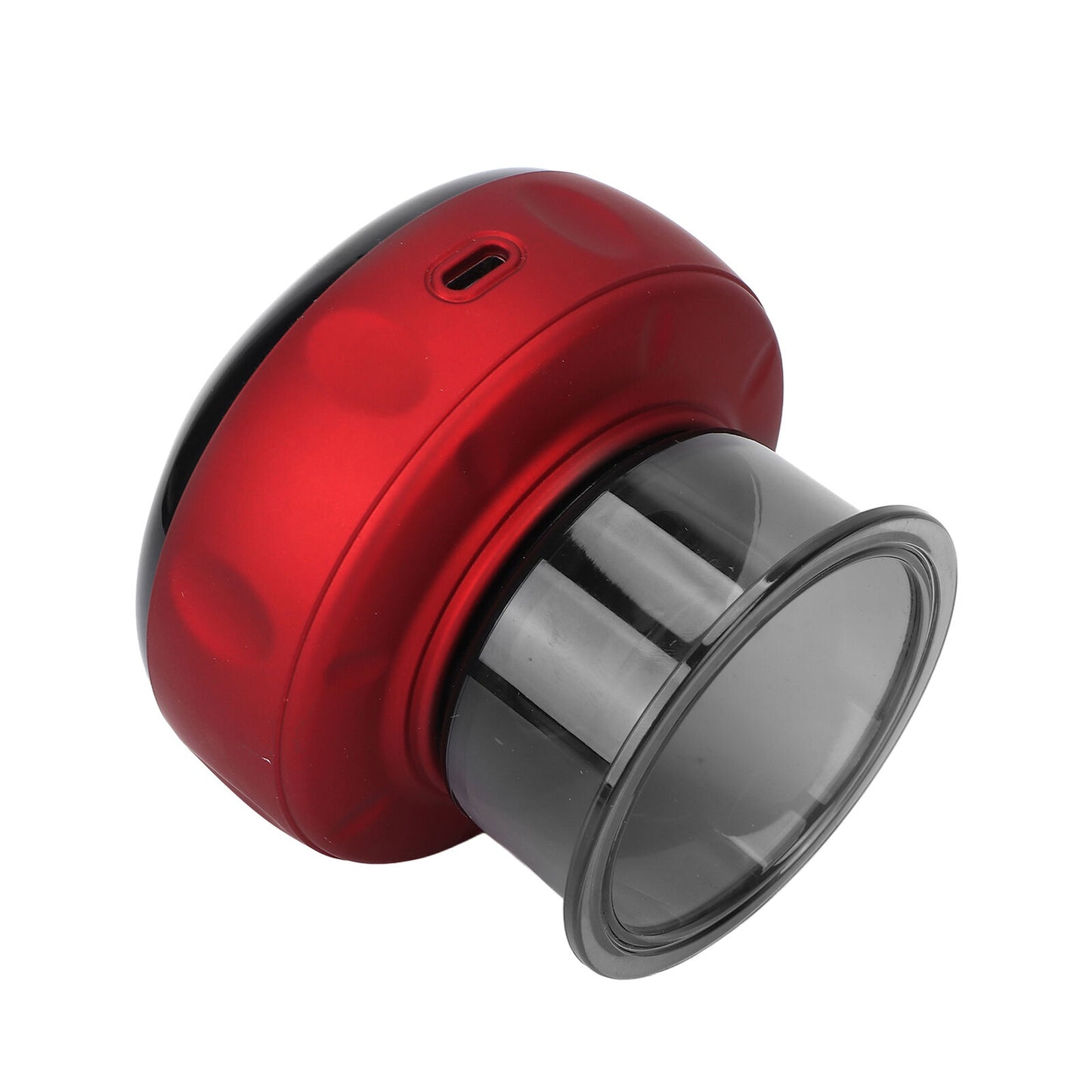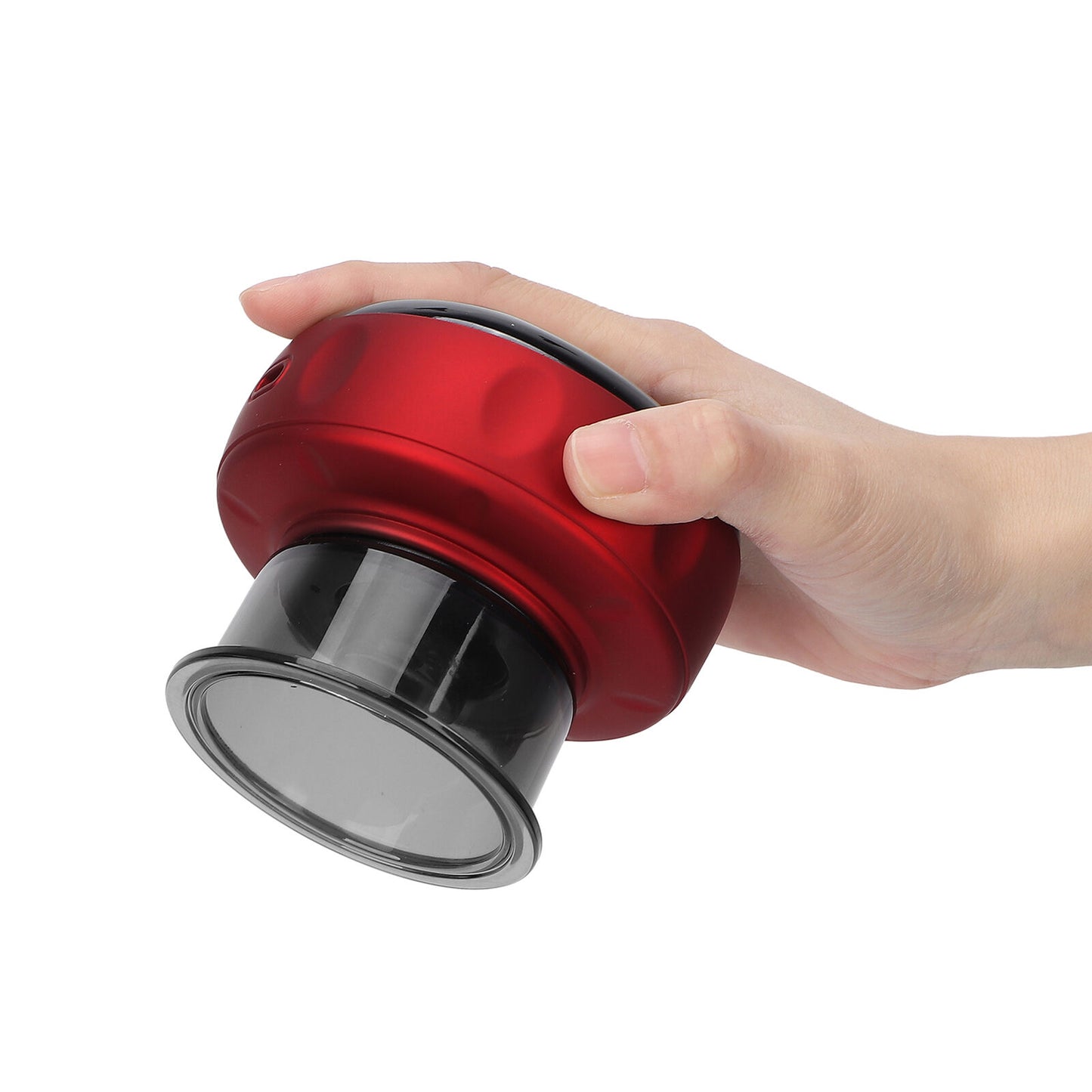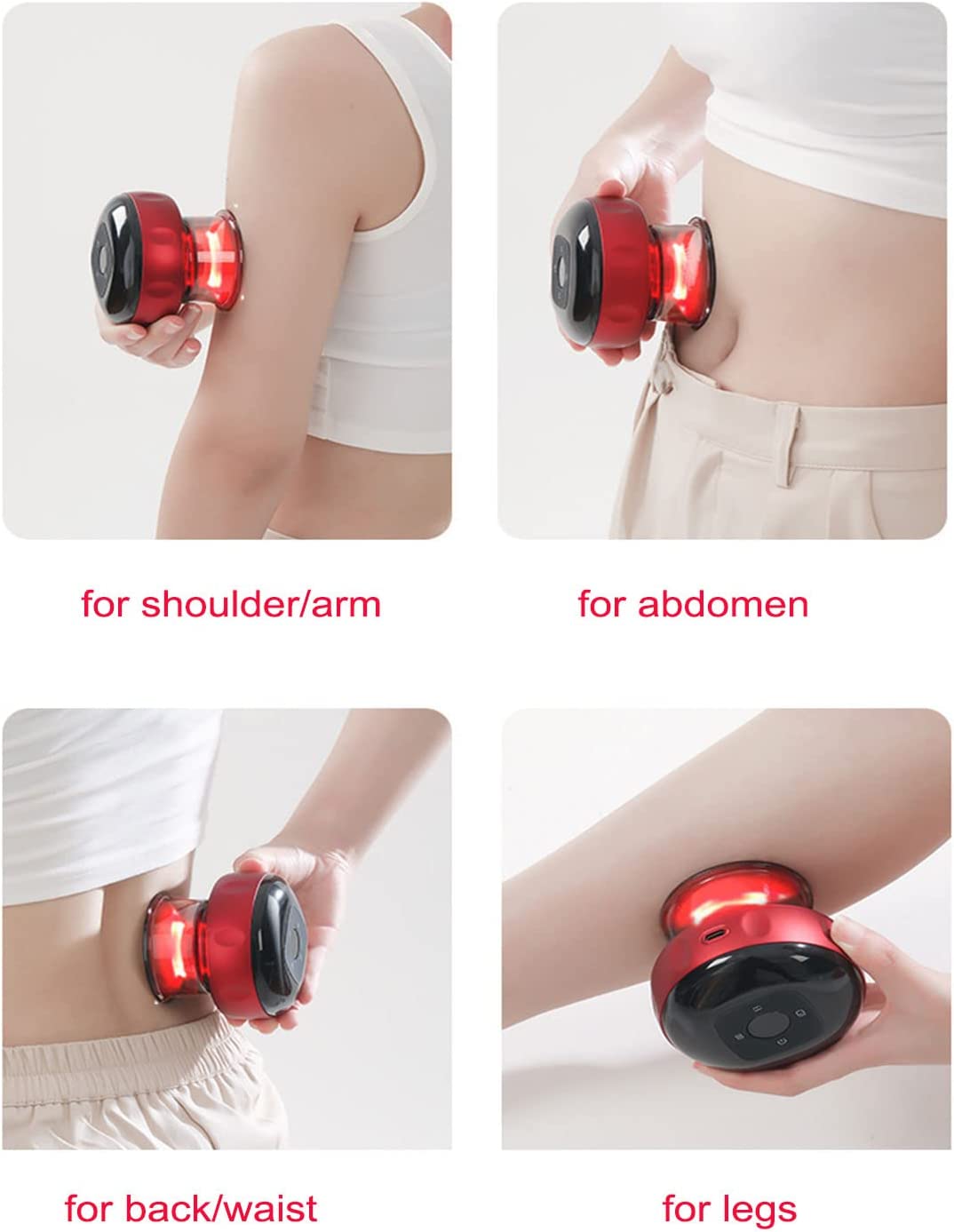 "It feels like a super deep massage. Almost feels like it's stretching deep into my muscle tissues!"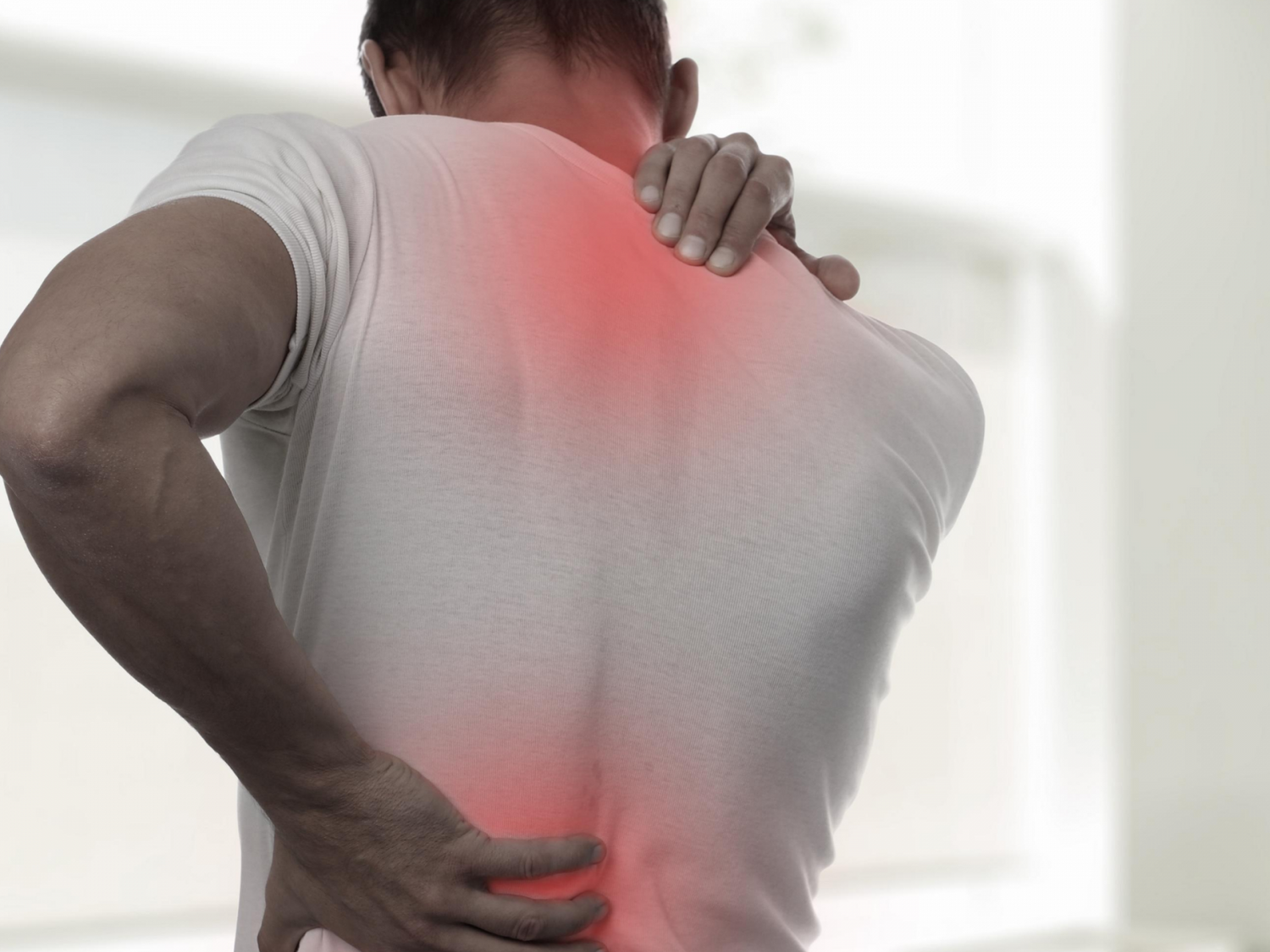 Tired of Muscle Tension & Body Pain?
We have all been there wishing the pain could go away...
Unlike many traditional pain relief methods, cupping can provide long-lasting results and help to address the underlying causes of pain and discomfort, rather than simply masking symptoms.
If you're looking for a more holistic approach to healing, cupping just might be the solution you need.
Created To
Improve Circulation Anywhere On Your Body

Boost Relaxation

Provide A Cupping Experience Anytime and Anywere

Alleviate Discomfort In Your Muscles Anywhere On Your Body
How It Works
Experience the power of ancient healing with the latest advancements in technology.
Our all-in-one cupping device integrates the benefits of cupping with adjustable dynamic suctioning, red light therapy, and targeted heating for a more effective and convenient therapy experience, perfect for use in the comfort of your own home or office.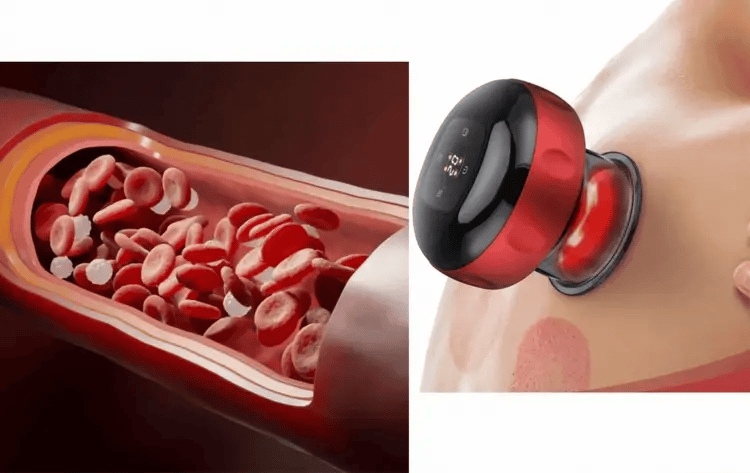 Improve Circulation & Mobility
The cupping machine creates a suction against the skin increasing blood flow and circulation to the targeted area, bringing fresh oxygen and nutrients to the tissues.
The increased blood flow and circulation can help to improve overall health and wellness by reducing pain, promoting relaxation, and supporting the body's natural healing processes.
Soothe Aches & Relieve Tension
A cupping machine uses suction therapy to apply pressure to the skin, which increases blood flow and circulation to targeted areas, soothing aches and relieving tension by reducing muscle pain and promoting relaxation.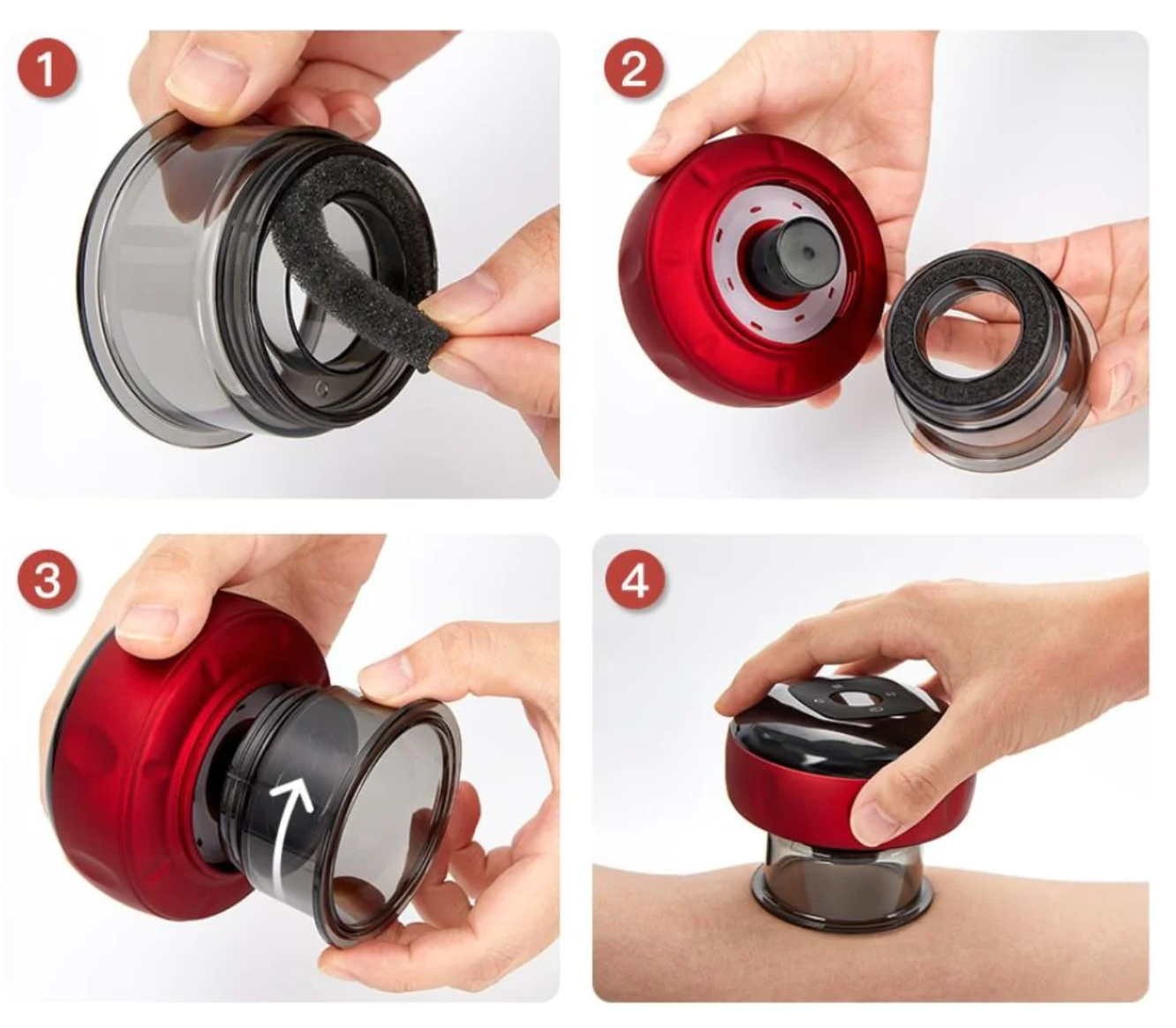 How To Setup
We've designed this product to be incredibly user-friendly. To get started, all you need to do is attach the filter to the plastic section's edge and screw on the bottom part. With just a few simple steps, you'll be all set to go.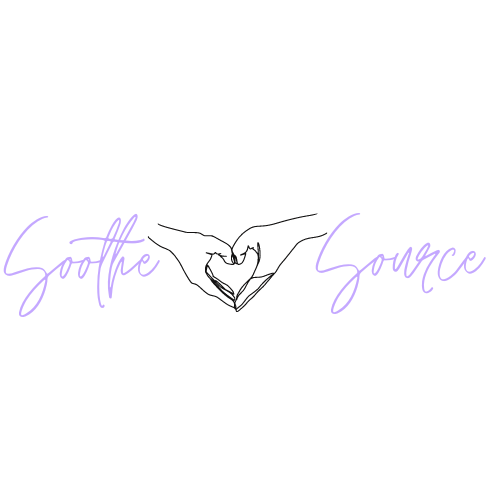 Our Guarantee and Shipping Information
We believe in our products so much that we offer a 30 day money-back guarantee. This is because we want every customer to have a positive experience with us.
Please allow 2-3 days to process your order and 7-15 for shipping. Also all orders are shipped from our US Warehouse 🇺🇸
FAQ's
When can you feel the effects?

The benefits of cupping therapy can be felt long after the cups are removed as the improved blood flow and oxygenation continue to nourish the muscles and tissues.
Is it normal to have red circles after a cupping treatment?

After a cupping treatment, it is normal for there to be red circles on the skin where the cups were applied. These circles are caused by the suction and are a sign that the treatment has been effective. The red circles usually last anywhere from a few days to a week, but can last longer depending on the individual and the intensity of the treatment. Some people may experience mild discomfort or soreness in the area for a short period of time after the treatment.
Is there red light?

Yes the device does come with red light therapy which helps penetrade deeper into the tissue.
How do I use the cupping machine?

Yes it is very to turn on and off and has separate controls from the rest of the massager. If you don't want it on you can leave it off and still enjoy hand relief.
How many modes are there?
Do I have to apply oil or anything before using?

You don't have to but if you plan on scrapping or moving it around then we advise you put on some of your favorite massage oils.