Your Dog's Path to Strength, Mobility, and Pain Relief
✔️Steady Support for Your Dog's Knee
✔️Non-Invasive Aid
✔️Helps Reduce Dog's Pain 
✔️Helps Reduce Risk of Future Injury 
✔️Revive Your Dog's Mobility
Regular price
Sale price
$49.99 USD
Unit price
per
Sale
Sold out
Introducing FlexiPup™, the ultimate dog knee brace for active companions. Designed for comfort and support, it aids in pain relief, mobility restoration, and injury prevention. Elevate your dog's well-being and ensure a happy, active lifestyle.

Shipping & Returns

Please allow 3-4 days for your order to be processed.

For United States: 7-15 day shipping

60 day money back guarantee
How Does This Work?

The dog knee brace offers stability, reducing strain on the knee joint. It alleviates pain, aids healing, and promotes better mobility for dogs with knee injuries or arthritis.
How Do I Choose the Right Size For My Dog?

You can look at the sizing chart to get a better idea on what would suit your dog best.
Your Dog Experiences Relief or Your Money Back!

We believe in our products so much that we offer a 60 day money-back guarantee. This is because we want every customer to have a positive and memorable experience with us.
View full details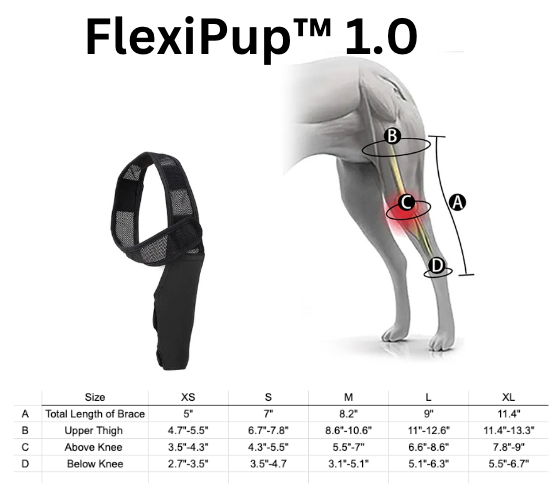 Size Chart
FlexiPup™ 2.0 Double Leg Knee Brace

FlexiPup™ 1.0 Single Leg Knee Brace
How It Improves Your Dogs Quality of Life
Our knee brace provides crucial support, relieving pain and aiding in healing. It safeguards your dog's mobility, enhances their quality of life, and ensures a happier, active companion.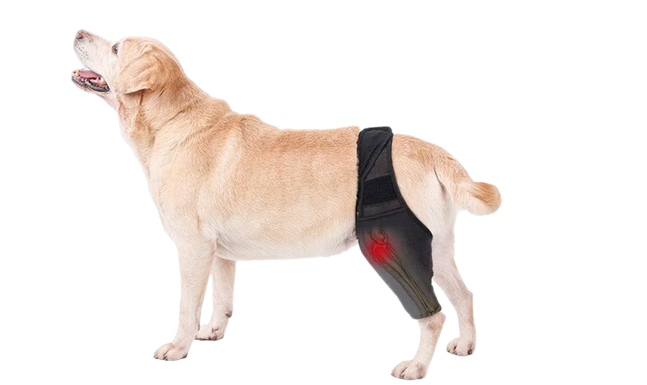 What Injuries This Helps With 
FlexiPup™ aids in the recovery and relief of common canine injuries and conditions, including osteoarthritis, cruciate ligament injuries, meniscus injuries, kneecap problems, luxating patella, and tendinitis. It provides essential support for your dog's comfort and well-being.
Simple Setup
Step 1

Place your dogs leg inside the brace.

Step 2

Make sure it is fit snug on.

Step 3

Strap the straps around your dogs body.

Step 4

Watch as your dog receives comfort and improves mobility.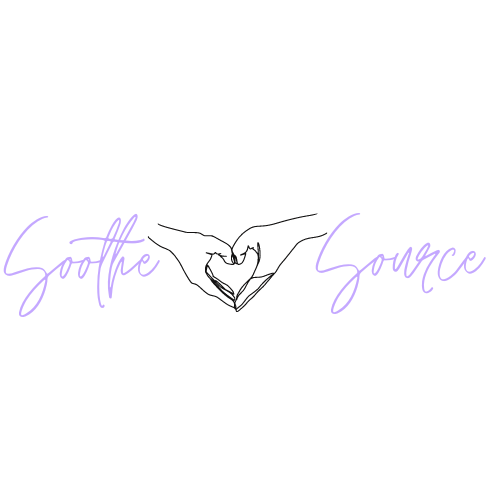 Your dog experiences relief or your money back!
We believe in our products so much that we offer a 60 day money-back guarantee. This is because we want every customer to have a positive experience with us.
Please allow 2-3 days to process your order and 7-15 for shipping. Also all orders are shipped from our US Warehouse 🇺🇸
FAQ's
How do I choose the right size for my dog?

Refer to our size guide on the product page, which includes measurement instructions. Measure your dog's leg circumference accurately for the best fit.
Can my dog wear the knee brace all day?

Yes, the knee brace is designed for extended wear. However, it's advisable to allow your dog short breaks for comfort and skin health.
Is it easy to put on and take off?

Absolutely. Our knee brace features user-friendly design and instructions. Most customers find it easy to put on and adjust.
Can my dog swim with the knee brace on?

Yes, our knee brace is typically waterproof and can be worn during water activities. Please ensure a secure fit to prevent slipping.
How long should my dog wear the brace each day?

Consult with your veterinarian for specific recommendations based on your dog's condition. Typically, dogs wear it during active hours and rest at night.
Is the knee brace machine washable?

Yes, many of our knee braces are machine washable for convenience. Refer to the care instructions provided.
Will my dog get used to wearing it?

Most dogs adapt quickly. However, a gradual introduction and positive reinforcement can help them become comfortable with the brace.
Can the brace be used on both front and hind legs?

FlexiPup™ is only meant for the back two legs.
Is there a warranty or satisfaction guarantee?

Yes, we offer a 60 day satisfaction guarantee. If you or your dog aren't satisfied, please reach out to our customer support for assistance.